Health Canada Wants you to Know that they are Closely Monitoring the Safety of COVID Vaccines…
Yeah…sure they are…lol
Sheldon Yakiwchuk17 hr ago
If you check the Health Canada – Reported side effects following COVID-19 vaccination in Canada – updates, you will find a couple of interesting things and especially if you really drill into and read what's going on in the COVID/Vaccine World.
So, I figured I'd get you pointed in the right direction…because a lot of people have been asking me about the Adverse Events of the new Bivalent Vaccines.
Now, clear in their reporting, they mention that:
Health Canada, the Public Health Agency of Canada (PHAC), the provinces and territories, and manufacturers continue to closely monitor the safety of COVID-19 vaccines. We'll respond to any safety issues right away and will inform Canadians about any risks that arise in Canada.
That Health Canada will respond to any safety issues 'Right Away' and will inform Canadians about any risks that arise in Canada…which seems odd for a statement because this is actually underneath the Adverse Events Following Immunization Stats that show: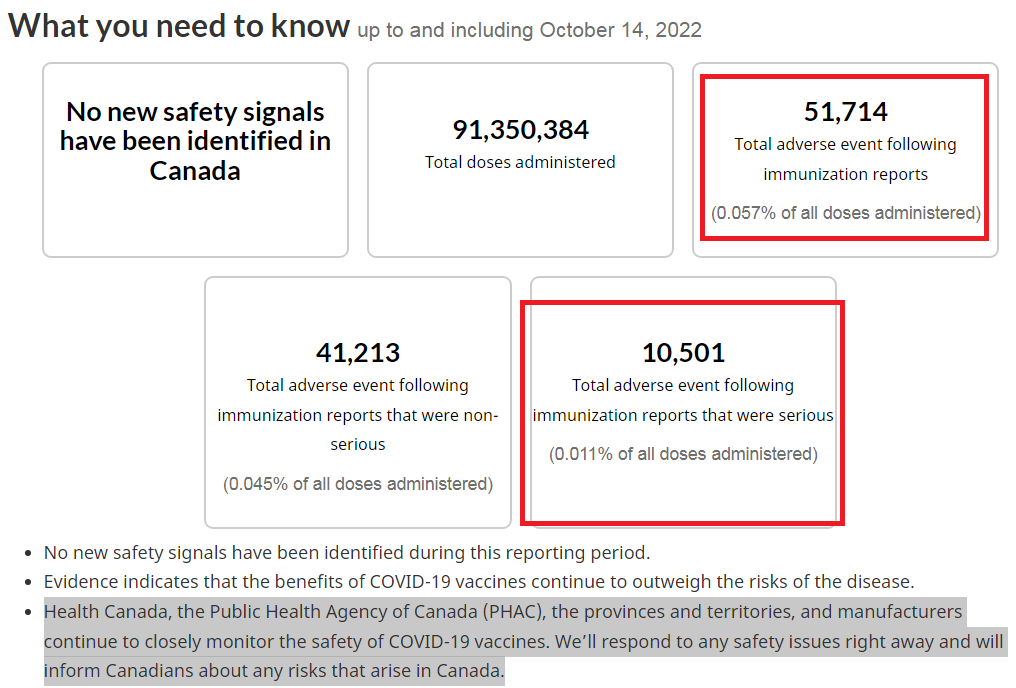 That 51,714 people suffered from an AEFI, 10,501 of those are "Serious"…life altering impacts…not superpowers that are gained by getting jabbed. (special note – there are more vaccine injured – 51,714, than there are COVID Deaths 46,389)
And while I've broken out this following lunacy before…I'll mention it again…of course keeping current…on Friday, November 4th, there were 3 product recalls because they had "Undeclared" items in them, that weren't on the labels.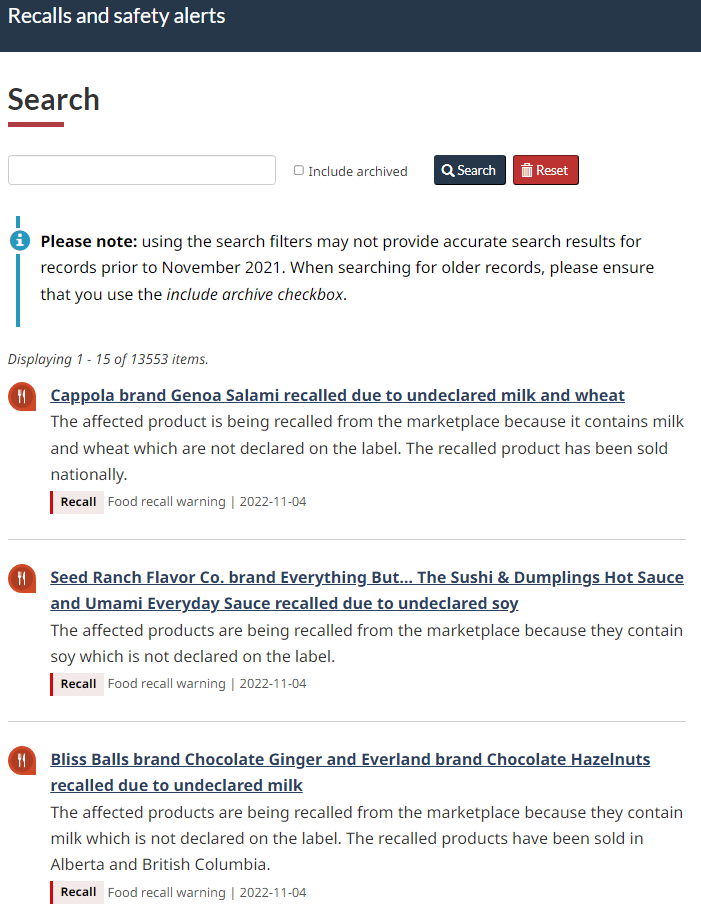 This doesn't mean that anybody was actually injured…it just meant that these products were recalled because they had the potential to cause injury…which is a lot different than Health Canada posting 50+K injured people from the Vaccines…while still allowing and promoting these products. Now, I'm certainly not making the case that these product shouldn't have been recalled, but more so that the same metrics should be applied to the current Vaccines.
Moving along…in the report, you will find that Health Canada is reporting on Injuries specific to the Bivalent Vaccines:
20 COVID-19 adverse event reports are following vaccination with Moderna Spikevax Bivalent (Original/Omicron BA.1) COVID-19 vaccine (0.001% of Moderna Spikevax Bivalent (Original/Omicron BA.1) COVID-19 doses administered). Of these 20 reports, 7 were considered serious and all 20 are captured under Moderna Spikevax throughout this report. As of October 14, 2022 we have not received any adverse event reports following vaccination with the Pfizer-BioNTech Comirnaty Bivalent (Original and Omicron BA.4/BA.5) COVID-19 vaccine.
And…you'll be happy to know that since Bivalent Vaccines have rolled out, there were only 20 reports of AEFIs, all of them from Moderna, None of them from Pfizer.
Which seems like terrific news, right?
However…if you compare the current report to the previous report, you'd see: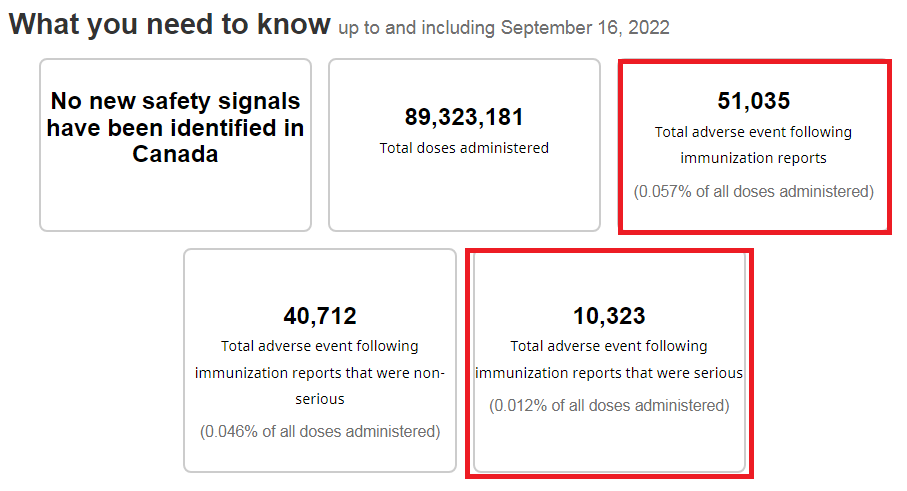 51,035 AEFI's were reported up-to September 16, 2022, 10,323 of them 'Serious'.
Meaning that from September 16, 2022 to October 14, 2022, there was an increase of AEFIs by 679, with 178 of them 'Serious'.
Remembering that only 20 of these, of the 679 were Bivalent Vaccine AEFIs.
Now…there is a couple of things troubling with just this point alone. In the Up-to-date stats, 51.714 AEFI's vs 10,501 Serious – about 20%.
With the monthly snapshot, 679 total and 178 Serious makes up 26%…which means that more people are having more serious AEFIs than historical Stats…which is following Boosters – ie, the more jabs you take, the more risk you have from being injured by the vaccines…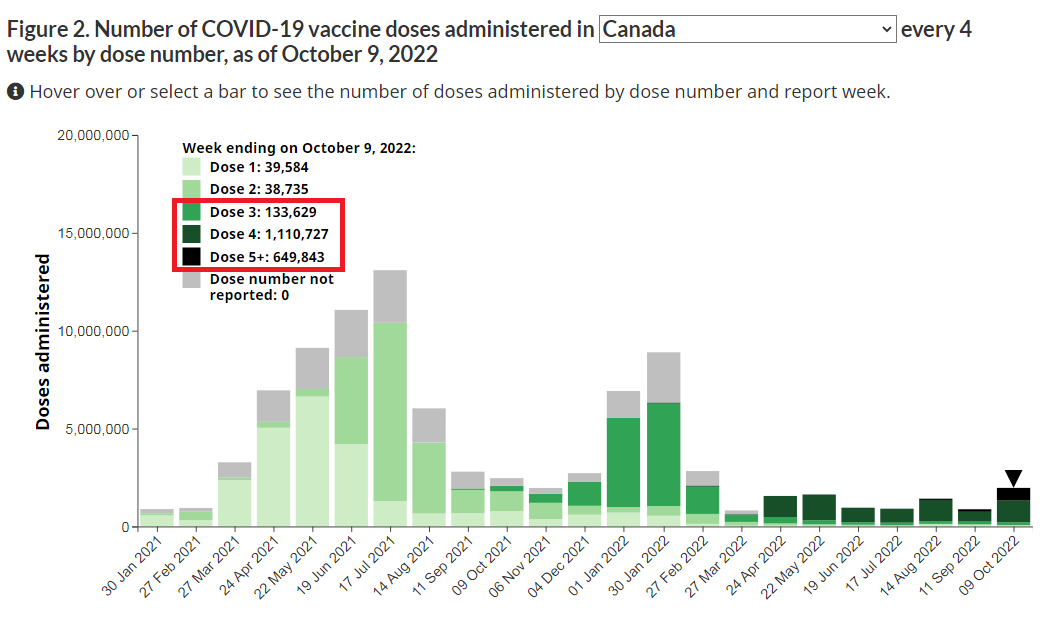 Now…this isn't something NEW…we've known since the beginning that there is more risk following the 2nd jab than was the first…but now we ABSOLUTELY know that this same trend follows with each dose
But the second thing that is troubling about this is…IF the old vaccines were Less Safe than the NEW Vaccines…where 659 out of 679 AEFIs were from the old secret sauce, why are still giving them?
And where Health Canada Says that there are:
No new safety signals have been identified during this reporting period.
I'd beg to differ.
Again…if these stats are to be believed…which they shouldn't be…Health Canada has a duty to not only Pull the old shit and destroy it…but to also issue a Safety Signal to Canadians.
Going back to the Food Recall…3 products were "Recalled" on November 4th, 2022…not one of these items would you be consuming if a Healthy Diet was what you were shooting for, especially if you have any food allergies…because they contained ingredients that "may have caused harm".
How do you take these 2 situations and reconcile them?
You Can't!
Now…I could end here and be satisfied that I've brought you the skinny on troubling information about the vaccines…but it doesn't actually end here…because one of the other statements that Health Canada states is that:
Evidence indicates that the benefits of COVID-19 vaccines continue to outweigh the risks of the disease.
I'm sure you are already picking up what I'm putting down here…but I'm just going to go ahead and say it anyways…
The Vaccines Don't Stop you from Getting, Transmitting, Being Hospitalized, Admitted to the ICU or DYING from COVID.
There is no weighing of these 2 things…it's preposterous to actually even set out to try and make this case.
This still assumes that the vaccines can stop you from Getting COVID.
But here's the thing…
If you go to the COVID-19 Epidemiology Update, and download the COVID death Data, you'd find out that there are already 1,888 MORE COVID DEATHS in 2022 than there were in 2021. This is a 13% INCREASE in COVID mortality in the current 10 Months of Data than were in the 12 MONTHS PRIOR.
Even MORE Troubling than this is that the Majority of Cases, Hospitalizations and Deaths, over this last 10 Months has been in the Vaccinated Population…Hospitalization and Deaths are greatest in the Boosted: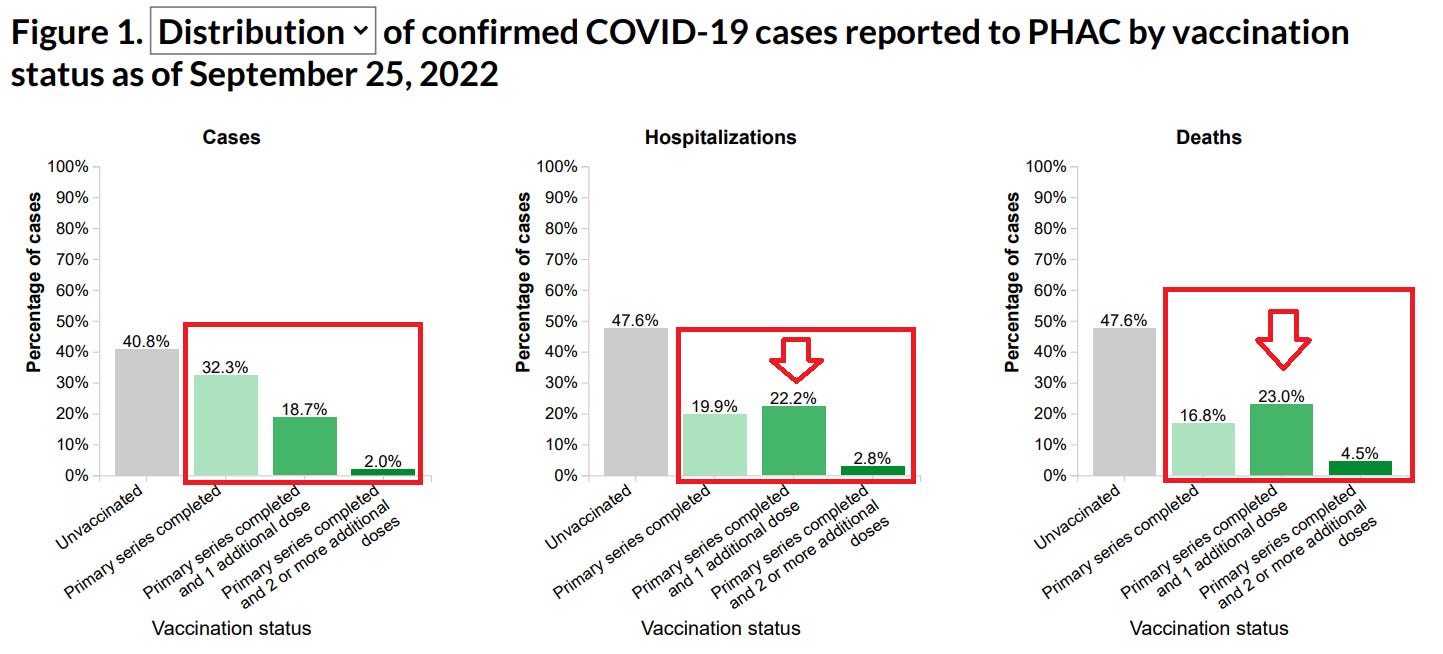 I want to note one more very important thing here…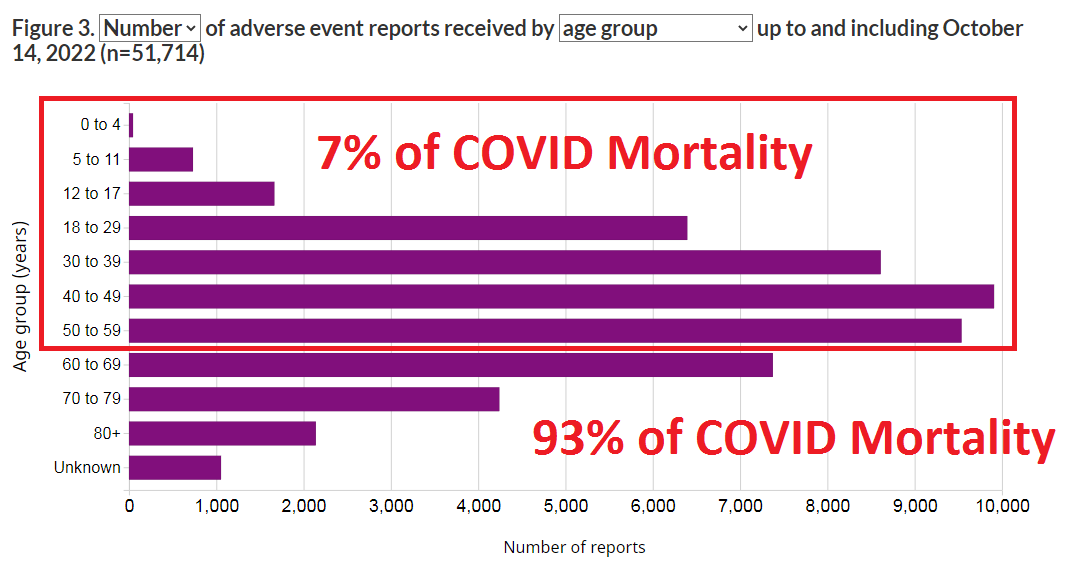 37,954 of the Total Adverse reactions happen in a population that makes up 7% of COVID mortality…and of the 7% of these mortalities in the Under 60 age group…all of them were with pre-existing health conditions or were morbidly obese.
This is all pretty troubling…but there's still more…
Remember a couple of months back where:
Health Canada Deleted 28% of the Adverse Events of Special Interest.
2 months ago · 39 likes · 9 comments · Sheldon Yakiwchuk
And that Nobody is Asking WHY?
Now, the last thing I will mention here is that the Majority of Cases of COVID for this Calendar year have been with the Least Virulent Variant…Omicron.
The whole year looks exactly like this, with Omicron and it's associated strains: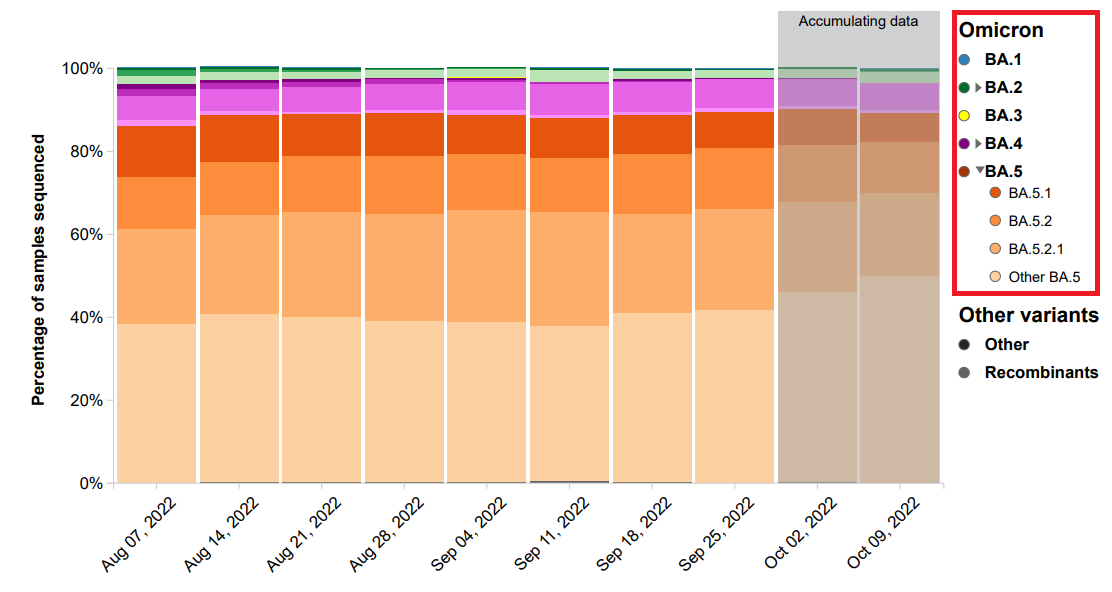 IE – It's a COLD!
So…to wrap this all up…Health Canada Wants you to Know that they are Closely Monitoring the Safety of COVID Vaccines, while:
The old vaccines are clearly more lethal, but this hasn't been reported this to Canadians under a 'Safety Signal'; where
We will pull food items from shelves before they've even had the potential to cause harm; where
The more Jabs you get, the HIGHER your Risk from an AEFI, that is ALSO not being reported to Canadians, under a 'Safety Signal';
When Health Canada compares Vaccines to getting COVID, where the Vaccines Do Not prevent you from Getting COVID;
Where the highest risk from death with/from COVID, making up 93% of the total COVID deaths are in the 60+ age group – getting NO PROTECTION FROM COVID;
Where 73% of those injured by vaccines are in an age group that will see NO BENEFITS because there is almost NO CALCULABLE RISK;
When Health Canada is Deleting Data on the more Serious Adverse Events;
While the weakest variant of COVID has been linked to More Death in the last 10 months than did in the entirety of 2021 by an increase of 13%;
Where the Majority of Cases, Hospitalizations and Deaths are in those who took the vaccines.
More Jabs…More Injuries…More COVID…More COVID Death.
And Health Canada wants you to know that you have Nothing to Worry about…because, they got this!
Un-Fucking-Believable!
---
If you are only reading the email version of my substacks, you are missing out on a lot of amazing conversations by visiting the articles in my substack and taking part of the conversation in the comments section. We have a fantastic community that love to share information, opinions and just overall support. If you haven't found this yet, click on the following link to the home page and check out the comments sections for each article, select the article and scroll down to the bottom…time well spent.
---
YakkStack Veterans Food Hamper Donations