https://nationalpost.com/opinion/rex-murphy-food-and-energy-the-liberal-governments-attack-on-lifes-essentials
Rex Murphy: Food and energy — the Liberal government's attack on life's essentials
After targeting the oil and gas sector, the federal government now wants to cut emissions from fertilizer usage by 30 per cent
Jul 25, 2022 • 20 hours ago • 4 minute read • 1072 Comments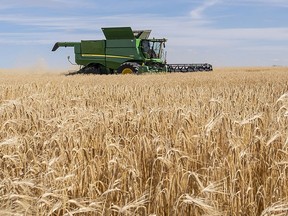 To flip a very famous phrase, now is the summer of our discontent.
Story continues below
Toronto — always yearning to be a world-renowned city, but not in this way — has had its main airport deemed the "world's worst." The government of (what should be) a great country is buying lawn chairs for citizens stranded in endless lines waiting for passports. A democracy-minded woman from Medicine Hat is sitting in an Ottawa jail over highly technical "breach of bail' conditions while volatile offenders wander freely outside in the summer air. Inquiries into possible interference in a massive police investigation and the first-time invocation of the Emergencies Act are stumbling along with questionable effectiveness.
And as a recent National Post editorial noted, Justin Trudeau, in the face of all this, has been floating around the country like a butterfly, flitting in and out of one venue after another, but of course exempted by virtue of his status and the government jet from the tribulations, anxieties and turmoil of our now famous Pearson holding-port.
Story continues below
It's not a proud time for Canadian government, of that we can all agree. And I think there's something especially depressing about any government that in lieu of efficiently issuing citizens the document of their citizenship — the passport — instead offers as a consolation a plastic lawn chair to sit in while lined up at midnight.
Of course there is the raging inflation on top of all of this, accelerated greatly by fuel costs, the latter driving up prices in every other sector. Must we add — yes we must — the unyielding carbon tax during an inflationary spiral.
Of course there is raging inflation on top of all of this
All in all, not a great time for any major experiments in policy. Not a great time to tamper with any of our fundamental industries. Considering the damage that climate alarmism has done to our oil and gas sector over the past decade, and considering how critical the demand for energy supplies is at present the world over and that had we not smothered our energy industry Canada would have been able to offer relief to Europe and lessen Vladimir Putin's leverage, is it not time to ask why are we doing this?
Story continues below
Why are we hitting an industry that could offer so much advantage to us, that could make Canada a real presence in the politics of the world today? Why is our government so beholden to the IPCC and Davos and the Great Reset that we manacle a great and abundant natural resource? There is no answer to this question, except the sad one that once ideology takes firm hold in the mind of a government, everything else becomes secondary. And that the ambition of a prime minister to be part of some great global crusade may cruelly lead to a neglect or a carelessness about the country he actually governs.
Now with the energy industry, it has so long been hobbled, denigrated and attacked that some may, sadly, think it's just business as usual. Everyone knows Big Oil is a villain until of course they run out of it — see Germany. But there is another industry as central, perhaps in a fundamental sense more crucial, and that is agriculture. Canadian agriculture is a great success, a success built on generations of toil, love of the land, and expertise. Modern agriculture, for those who even have a glimpse of its complexity and sophistication, is a real wonder.
Story continues below
Surely, this industry is one that will escape the oversight and interference of the climate priests. Alas no. The Netherlands is in turmoil because its government is bringing down stringent fertilizer curtailments, which have resulted in a countrywide protest by farmers. Agricultural workers are protesting similar policies in Sri Lanka, to say nothing of Ireland, where farmers are decrying a government plan calling for a 21 to 30 per cent cut in emissions from the agriculture sector.
But surely this stumbling, aimless Liberal government of ours would not attempt something of the same here?
Story continues below
Alas yes. Our federal government has given notice that farmers and ranchers have to cut back their emissions. The government has set a goal of reducing greenhouse gas emissions from fertilizer use by 30 per cent as part of its overall effort to reduce Canada's emissions by 40 to 45 per cent by 2030.
What kind of madness is this? With so few things (see above) functioning in this country, why is this otherwise indifferent or detached government wandering into a cardinal economic sector — the one that provides food — with its IPCC-driven mandates?
It is impossible to disagree with Saskatchewan Agriculture Minister David Marit, who said, "We're really concerned with this arbitrary goal … The Trudeau government has apparently moved on from their attack on the oil and gas industry and has set their sights on Saskatchewan farmers."
Energy and food — the twin essentials of life and security. And this government cannot leave the industries which provide both alone.
Neither can it seem to leave alone the lives and security of Western Canadians.
National Post