Monkeypox Update by R. W. Malone
Will the blatant fearporn ever stop? The controlled media have no shame.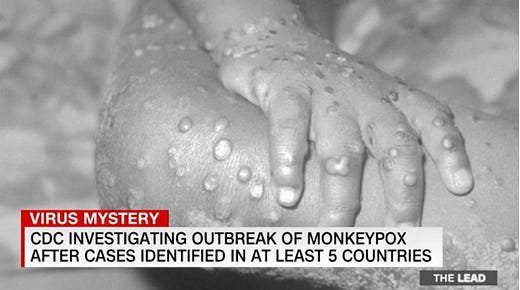 If Ronald Reagan were still with us, I suspect we would be hearing "There you go again" replays. First came the coordinated media blast of public health-related fearporn. For example, the image from Jake Tapper's CNN broadcast program "The Lead" of May 20,2022 (above) which appears to me to be a case of smallpox, not monkeypox. Another example involves the self-explanatory paired images below.
And of course the Bill and Melinda Gates – funded GAVI text which is quite blatant, claiming 10% mortality, which I covered in my prior substack articleconcerning Monkeypox and fearporn. 
Full article: