Last year many Canadians were embarrassed to celebrate Canada Day as ground penetrating radar exposed the graves of many indigenous children who had attended the Kamloops residential school. The Maple Leaf was flown at half mast to acknowledge Canada's shame and our pious Prime Minister quickly pled guilty, "I recognize these findings only deepen the pain that families, survivors and all Indigenous peoples and communities are already feeling as they reaffirm truth that they have long known."
An article by Terry Glavin in the National Post concludes:
The fallout
In the end, after all the national convulsions sparked by last summer's sensational headlines about the discoveries of at least 1,300 unmarked graves containing the remains of residential-school children, this is what we're left with.
At the Kamloops Indian Residential School, ground penetrating radar identified 200 "probable" but unconfirmed burials of children from the residential school days.
At Cowessess, the graves of 751 Indigenous and non-Indigenous adults and children were enumerated and properly located in an old Catholic cemetery. At St. Eugene's, there is a well-known cemetery, originally set aside for white settlers but a place where Indigenous people are buried as well, that had long ago lost its wooden crosses. The burials of 182 people have now been enumerated and properly located.
At Shubenacadie, extensive surveys came across the graves of Irish immigrants from a century before the old residential school there first opened its doors. Their graves were found in the area where former students had reported a burial site. At Penelakut Island, "160+" possible burials may or may not have been discovered last summer, and some of them might be associated with a long-shuttered residential school.
That's what all the headlines were about.
Well worth the full read to restore some of your faith in Canada and allow you to celebrate one of the most tolerant and inclusive nations in the world.
https://nationalpost.com/opinion/the-year-of-the-graves-how-the-worlds-media-got-it-wrong-on-residential-school-graves?__vfz=medium%3Dstandalone_content_recirculation_with_ads
The year of the graves: How the world's media got it wrong on residential school graves
The coverage triggered protests, church arsons and condemnation from Canada's bad-faith rivals, but last summer's reporting on the country's long-acknowledged historic shame had little to do with what happened. Terry Glavin reports.
May 26, 2022 • 3 hours ago • 24 minute read • 796 Comments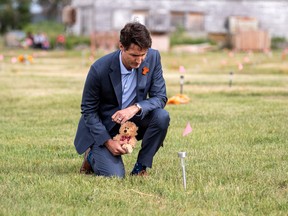 This is how it all began, a year ago this week: 'Horrible History': Mass Grave of Indigenous Children Reported in Canada. On May 28, 2021, that's how the New York Times headlined the first of a summer-long series of gruesome "discoveries" that precipitated a descent into paroxysms of shame, guilt and rage that swept across the country.
Story continues below
That first story was ostensibly about 215 children whose remains were discovered in a mass grave at the site of the long-shuttered Kamloops Indian Residential School, on the grounds of the main Tk'emlúps te Secwe̓pemc reserve in British Columbia's southern interior. The New York Times headline illustrates the way the story was almost universally reported.
Except that's not what happened in Kamloops.
In the following weeks, while the term "mass graves" generally gave way to "unmarked graves," a cascade of breaking news events purported to reveal several discoveries of what eventually added up to more than 1,300 child burials at other residential school sites across Canada. Except that's not what happened in those places, either.
Story continues below
Still, there were protests and violence in cities and towns from one end of Canada to the other. Dozens of churches were vandalized. Several churches were razed to the ground, some of them beloved old Indian reserve churches where Indigenous communities had baptized their children and eulogized their dead going back generations.
Statues were toppled and smashed. Canada Day events were cancelled. The Maple Leaf was lowered on Parliament Hill and on all federal buildings across the country. United Nations human rights special rapporteurs called on Canada to conduct a full investigation.
The uproars were widely characterized as a "long overdue reckoning" with the legacy of Canada's Indian residential schools. But nothing new about the schools was revealed last summer. Despite the saturation of news coverage, the international spotlight and the reopening of old wounds inflicted on so many Indigenous people in those schools over the years, nothing new was added to the public record.